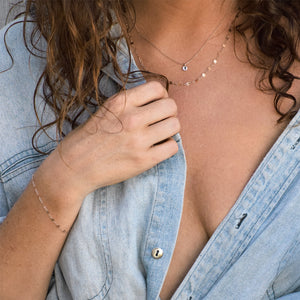 angel number necklace
Regular price $60.00 Sale
Rose gold filled
Total length - 16"
Pendant Size - approximately 4.5mm
If you would like custom number, please let us know. 
Handmade in USA 
1 - Originality, leadership + independence. When this number appears it signals the beginning of something new in your life.
3 - Optimism + self-expression. New avenues of creativity + good nature. Affirming that your dreams + ambitions are in line with your journey. 
5 - Create balance between physical + spiritual being. Have the courage to experience life + live in harmony. 
7 - In alignment with spiritual purpose. The number of the spirit. Opportunity to align with the divine purpose will open. 
PAY ATTENTION TO ALL OPPORTUNITIES.
ELIMINATE ALL DOUBTS + FEARS.
TRUST IN YOURSELF + BELIEVE IN YOUR ANGELS.